Jurassic World: Dominion Dominates Fandom Wikis - The Loop
Play Sound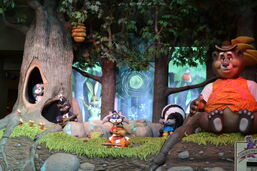 The Forest Friends Show is an attraction found at several Great Wolf Lodge locations that opened between 2014 and 2017. It replaces The Great Clock Tower Show which is commonly found at older locations with the exception of the Niagara Falls, ON location which has an older version of this show.
Features
[
]
Operation
[
]
Like its predecessor, The Forest Friends Show consists of several talking animal animatronics that entertain guests at different points during the day. The show, however, leaves out the human characters as well as the giant clock. Instead, giant screens in the background feature CGI characters that interact with the animatronics during the show. The Forest Friends Show is activated during the evening hours whenever Story Time takes place as well as one time during the morning hours.
Description
[
]
The show usually starts up with some younger animals wanting to hear some stories from Grandpa Grizzly who's asleep during the beginning of the show. The two young animals Sallie and Bandai manage to wake him up and then he goes on telling the story of how the seasons came to be through several songs.
Niagara Falls, ON Version
[
]
At the location in Niagara Falls, ON there exists a different version of this show which predates the version most are familiar with as the resort opened in 2006. This version stars Mo the Moose, Mother Bear with her cubs, and other Northwoods animals as they sing about their adventures. Unlike the newer version this one also has a talking tree similar to the ones found at The Great Clock Tower Show.
Plot
[
]
The show begins with Grandpa Grizzly the bear who was seen fast asleep when Sallie the squirrel comes out from a hole in the tree with her friend, Bandai the raccoon and want him to tell them a story. After waking him up by the help of Auntie Robin, Grandpa Grizzly tells the two young animals a story and also sings songs as well. He features the endangered species band: Simon the skunk on harmonica, Spike the porcupine on guitar and Digger the gopher on drums so they can play the first song, "Adventure". After the bubbles comes out after the song, the young animals can talk about the four seasons. Grandpa Grizzly releases the Story Dust and the story starts with the 2 seasons, Summer and Winter. After they sing "Imagine That" about the two seasons, Betty the rabbit can help them by doing the "Frío y Caliente" of The spirit of Nature.
Characters
[
]
Locations
[
]
Soundtrack
[
]
The soundtrack for this show was produced by Bluetube. Each song can be found on Soundcloud here:
Gallery
[
]
Trivia
[
]
This show does play one of the songs from The Great Clock Tower Show, "Rhythm of Nature" towards the end of the show.
At the Pocono Mtns, PA location, the show is available to view on guest room TVs likely on one of the exclusive Great Wolf Lodge channels.