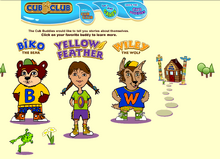 The Cub Club is a group of characters that could be found at every Great Wolf Lodge in either art or walkaround form (with the exception of Yellow Feather, who appeared as an animatronic). They live in "The Cub House". They were introduced sometime around late 2001 and were later retired sometime in 2009 following the redesign of Wiley the Wolf. They are often considered the predecessor to The Great Wolf Kids.
The Cub Club Website
[
]
On their website, the characters would teach you facts about Bears and Wolves. They also had games you could play. You can play a printable Water Park Maze, a Memory Match, and Wild Woods. Wild Woods was a game where Biko, Wiley, and Yellow Feather were lost in the woods, and you use different colors to help find them. The website was replaced by the Great Wolf Kids website.
Members
[
]
Gallery
[
]
The Cub Buddies
Characters