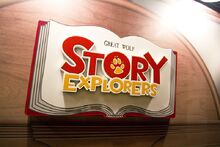 Story Explorers was an interactive attraction developed by Creative Kingdoms which was implemented into several Great Wolf Lodge locations starting with the location in Pocono Mountains, PA in 2011. It utilized the same technology found in MagiQuest to create an modern-day adaptation of the classic storytelling experience. It was later replaced by the Great Wolf Kids Clubhouse Crew in 2017. Its theme song was sung in part by Specs the Owl.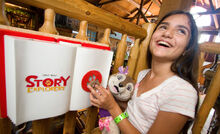 Plot
The story of this game is about Madison, a wolf pup, needs to learn to howl and Players called "Explorers" must do different things to help him. Along the way, they can "help" the story along by consulting animals and collecting letters from books. 
Gameplay
The experience would begin with the person choosing a plush toy which would act as the companion of that said person. Players would then pause in front of a green screen to strike several pre-determined poses for a camera before becoming the main character in an interactive story. This would lead them through a series of video screens scattered throughout the resort in a similar fashion to that of MagiQuest. An RFID Wristband which was connected to the plush would be scanned to advance the story. After completing the storybook, players would be given a keepsake of their adventure: A personalized storybook which integrated the photos taken at the beginning of their adventure with the actual story illustrations, making them the main characters in the story.
Gallery
Trivia
The trademark for Story Explorers expired in 2019.