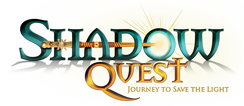 ShadowQuest is an interactive role playing game similar to the original MagiQuest that was implemented into several Great Wolf Lodge locations in 2013. In this game, players investigate the reason why the light is disappearing in the sky and to defeat the mastermind behind it before it vanishes. The game was the first in the series to use the Unity engine for it's graphics. This game is also known as MagiQuest Chronicles: Journey To Save The Light.
Regions
[
]
Tangled Woods
Whispering Woods
Piney Path
Dragon's Hall
Enchanted Woods
Forgetten Hallway
Former regions
[
]
Coastal Cliffs
Howling Hills
Cryptic Caverns
Quests
[
]
Detect Magic Rune
Track Magic Rune
Lock Portal Rune
Banish Creature Rune
Sky Light Rune
Stone Rune
Agon Rune
Snowman Rune
Avalanche Rune
Snow Rune
Adventures
[
]
Investigate the Vanishing Light
The Final Battle
Characters
[
]
Locations
[
]
Former locations
[
]
Gallery
[
]
Trivia (Taken from MagiQuest Wiki)
[
]
When the game was being developed internally, ShadowQuest was called WinterQuest.
At the Wisconsin Dells, WI location, there is an unused lightbox containing a war hammer.