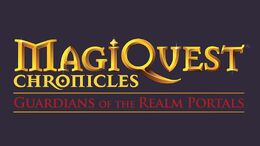 MagiQuest Chronicles: Guardians of the Realm Portals is an updated version of MagiQuest (Legacy) that can be found in lodges built since 2014. It has a different story and the game runs on the Unity engine. The game was first introduced at the Fitchburg, MA location in 2014. The game takes place in a different Realm called Vellara. All the runes obtainable in this game can be found in all Lodges supporting 2.0 Compared to some Legacy Lodges having different rune sets.
Plot
All throughout history, the Magi have wandered the globe, spreading their teachings. The magic they wield comes from the enchanted Runes. Realizing the Runes must be kept safe from those who might misuse it, the leaders renounced themselves as Magi; transforming into mystical beings. They are known as the Guardians of the Realm Portals.
Regions
Tangled Timbers
Whispering Woods
Howling Hills
Cryptic Caverns
Coastal Cliffs
Former regions
Tempest Islands
Highforce Peaks
Forgotten Hallway
Quests
Dazzle Rune
Enchant Creature Rune
Healing Rune
Distract Rune
Lightning Rune
Portal Rune
Protection Rune
Freezing Rune
Ice Arrow Rune
Master Magi Rune
Adventures
Pixie Adventure
Goblin King Adventure
Dragon Adventure
Characters
Locations
Gallery
Trivia
Some fans refer to this version of MagiQuest as "MagiQuest 2.0" to differentiate it from the original MagiQuest which was dubbed Legacy.
Some Characters you meet throughout the game have an inconsistent mistake. Some characters pronounce rune as "ruin". But some of them pronounce it the correct way.
This game has Quest Stones instead of Quest Trees in Legacy Locations with the exception of Niagara Falls, ON.