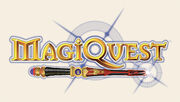 MagiQuest is a live action role-playing game in which players take the role of being a Magi, a wizard who does quests and searches for objects along the way. It is one of the lodge's signature attractions and is very popular with guests of all ages.
History
[
]
Opening of first location and GWL Expansion
[
]
The first MagiQuest opened in Myrtle Beach, South Carolina at noon on June 15, 2005. In 2008, Creative Kingdoms made an agreement with Great Wolf Resorts to install the game at all current Great Wolf Lodge locations. The game was first installed at the Pocono Mountains, PA location in 2006. In 2010, Great Wolf Resorts bought out Creative Kingdoms to make it cheaper to install MagiQuest in their hotels.
Other Locations
[
]
On September 7, 2015, the Myrtle Beach MagiQuest closed permanently. At one point, MagiQuest operated many standalone locations (referred to as "Kingdom Realms") outside of Great Wolf Lodge including two in Japan but all except one have since closed. The only remaining standalone location is in Pigeon Forge, Tennessee. The ones inside Great Wolf Lodge are referred to as "Forest Realms". But Lodges built since 2014 have dropped the Forest Realm for Lodges in favor for a new setting called Vellara in 2.0.
Synopsis
[
]
Players first choose a special magic wand, top it with extra powers, and then are sent off on a quest. Each quest consists of various areas the player must visit in order to complete that quest. When visiting these areas, the player must point their wand to activate them. There are also kiosks scattered around the resort which act as specific areas during a quest. The game takes place in a Forest Realm for Legacy, and Vellara for Chronicles. The player may befriend the Treetop Pixies, battle Charlock, the evil dragon and fight to defeat the Goblin King. In Legacy Lodges, 2 adventures are also in the game being the Ursa Major Adventure and the Silver Dragon Portal Adventure.
Games
[
]
Online Games
[
]
Gallery
[
]
External Links
[
]