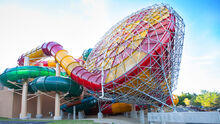 The Howlin' Tornado is a thrill water ride located inside the Bear Track Landing Waterpark of several Great Wolf Lodge locations. It features several tilting twists and turns which then drops the rider down into a six-story funnel where they ride up the walls high several times before going down the last tunnel into the pool. It is considered a favorite among many who go to Great Wolf Lodge.
This slide has been built by ProSlide Technology.
Installations
[
]
Layout 000
[
]
3/4 Rattler
[
]
Resembles the "Rattler" layout found at many Six Flags chain parks, with some changes.
Monsoon
[
]
Named due to resembling Mondo Monsoon at Kings Island.
4/5 Rattler
[
]
Layout 000A
[
]
Monsoon+
[
]
Gallery
[
]