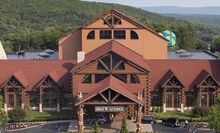 Great Wolf Lodge Pocono Mountains, PA is a Great Wolf Lodge located in Scotrun, Pennsylvania which is in the Pocono Mountains region. It opened in 2005 as the company's 6th location following the opening of Great Wolf Lodge Williamsburg, VA which opened the same year.
History
[
]
Early Days
[
]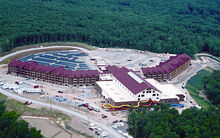 Great Wolf Lodge Pocono Mountains, PA was first announced around 2004. The resort opened in the fall of 2005 with Starbucks opening the following year. It was one of three resorts built by the contractor group Kraemer Brothers alongside Blue Harbor Resort and Concord, NC.
After Opening
[
]
The resort opened in the fall 2005 rather incomplete, the Starbucks was missing, and River Canyon Run and Hydro Plunge were still under construction, by February 2006, the waterslides were open and on an unknown date in 2006, Starbucks opened.
2019 Renovation
[
]
In 2019, this location underwent renovations which included updating the suites as well as new carpeting being installed throughout the hallways and Grand Lobby. They were completed by Memorial Day of that year. Starbucks also left with Dunkin' Donuts taking it's place.
What it features
[
]
Attractions
[
]
Dining
[
]
Shopping
[
]
Other Features
[
]
Former Features
[
]
Attractions
[
]
Dining
[
]
Shopping
[
]
Other Features
[
]
Gallery
[
]
Resort Maps
[
]
Trivia
[
]
External Links
[
]
Lodge Locations
Northeast United States


Fitchburg, MA | Pocono Mtns, PA
---
Midwest United States
Bloomington, MN | Gurnee, IL | Kansas City, KS | Mason, OH | Sandusky, OH | Traverse City, MI | Wisconsin Dells, WI
---
Southern United States
Concord, NC | Grapevine, TX | LaGrange, GA | Williamsburg, VA
---
Western United States
Colorado Springs, CO | Garden Grove/Anaheim, CA | Grand Mound, WA | Manteca/San Francisco, CA | Scottsdale, AZ
---
Canada Niagara Falls, ON
---
Former Properties Blue Harbor Resort (Sheboygan, WI)