Great Wolf Lodge Colorado Springs, CO is a Great Wolf Lodge located in Colorado Springs, Colorado. It first opened in 2016 and is the company's 14th location. Much like the Fitchburg, MA location, this was also acquired and converted to the Great Wolf Lodge brand.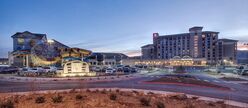 Great Wolf Lodge Colorado Springs, Colorado started out as a project in the late 2000s where it was going to be a multi-story hotel under the name "Renaissance Hotel". The owner at the time, Missouri billionaire John Q. Hammons fronted $47 million of his own money to build the hotel before he ran out of funding in the fall of 2009. Half the structure was completed, but the structure was left abandoned until Great Wolf Resorts purchased the property in 2015 for $18 million. The hotel finally opened in the later part of 2016.
External Links
Edit
Community content is available under
CC-BY-SA
unless otherwise noted.