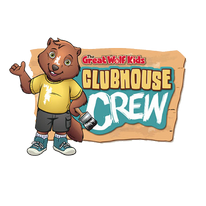 Clubhouse Crew , also known as The Great Wolf Kids Clubhouse Crew, is an attraction found at some Great Wolf Lodge locations. It is an interactive adventure game Developed by Creative Kingdoms that is themed around The Great Wolf Kids. The game takes players around the lodge while they look for various terminals with each of the characters on them. At each of the terminals, a Great Wolf Kids character will ask them to perform a specific activity.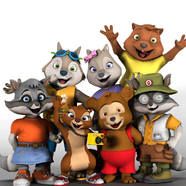 Synopsis
Waymb Woodchuck has been causing some mischief and havoc to The Great Wolf Kids and they don't understand why. The player sets off on an adventure to help the crew track down Waymb and find out why he's doing all of this.
Gallery
Videos
Trivia
Although the plot and some concepts are different, Story Explorers was very similar to Clubhouse Crew in which the player would pick a plush animal to be their companion and use them to activate the terminals.
A Snowland version of the game with a different soundtrack and minigames debuted in 2015 which is called Rowdy's Reindeer Games. It features the character Rowdy the Reindeer.