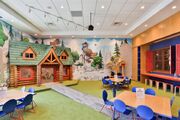 Camp H.O.W.L., also known as Habitat of Wild Learning, is an attraction that is found at newer locations. It is the kids-only area of Great Wolf Lodge. Its full name is Camp H.O.W.L Kids Club. The attraction is similar to Cub Club, the former kids-only activity. Some also include Build-A-Bear Workshop in the same area as well. Paws On Projects is also held here. Although they are only found in the locations at LaGrange, GA and Salt River, AZ although they will be added at all upcoming resorts.
Note: There is no longer any Camp H.O.W.L. at Gurnee IL.
What there is to do
Crafts
Kids are given the opportunity to do many kinds of crafts such as coloring pillowcases and t-shirts. They can also color in coloring sheets as well.
Toys
For younger children, Camp H.O.W.L. offers lots of toys for them to play with. There is usually a computer and a puppet theater to put on plays using puppets as well.
"No-Parents Allowed Time"
Kids can also take part in a "no-parents allowed" time which gives parents the chance to relax while their kids have fun doing many activities. In the past, Camp H.O.W.L. also offered a Jr. Lifeguard program where kids get the opportunity to know what it's like to be a lifeguard.
Gallery