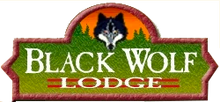 Black Wolf Lodge was the original name given to the Great Wolf Lodge in Wisconsin Dells, WI when it first opened in May 1997. In August 2000, the resort's name was changed to Great Wolf Lodge by The Great Lakes Companies founders Marc Vaccaro and Bruce Neviaser. Although there was never a clear answer as to why the resort's name was changed, some have speculated it was changed to avoid confusion with the unrelated Blackwolf Run Golf Course in Koshler, Wisconsin.
History
[
]
Black Wolf Lodge was a small water park resort constructed by two brothers Jack and Andrew Waterman. They were previously known for opening another water park in Wisconsin Dells by the name of Noah's Ark Water Park. Black Wolf Lodge initially had 117 suites and a 20,000 sq ft water park when it first opened in 1997. When The Great Lakes Companies Inc purchased the property in 1999, it was expanded to 309 suites with a 40,000 sq ft water park including an outdoor water park called "Thunder Bay". Today, the Wisconsin Dells property has 437 suites with a 76,000 sq ft water park. The arcade was also referred to as Yukon Jack's Game Parlor which was later changed to Northern Lights Arcade.
What it Featured
[
]
*Note: This is info discovered through the Wayback Machine around October 2000, only months after the name change to Great Wolf Lodge.
Gallery
[
]