Biko the Bear, sometimes stylized as Bîko, is one of the former mascots of Great Wolf Lodge and a member of The Cub Buddies. He wears a yellow t shirt with a "B" on the front and his name on the back with blue shorts with orange spots.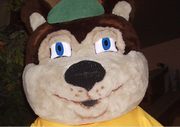 Not much is known about him besides the fact he was friends with Wiley the Wolf and was often paired with him until Biko was retired in 2009. Biko has been confirmed to have appeared at Great Bear Lodge along with Wiley the Wolf.
Gallery
[
]
Trivia
[
]
Though not appearing in many places as artwork, Biko did appear alongside Wiley the Wolf on the side of a still crane arcade machine found in some Northern Lights Arcades.
Some locations had a 3D movie theater called "Biko's 3-D Virtual Reality Adventure Theater".