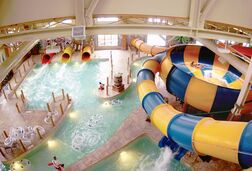 Bear Track Landing Waterpark, formerly Spirit Island also referred to as Wiley's Waterpark at newer locations, is an attraction found at all Great Wolf Lodge locations. It is the main attraction of the entire resort and is an important part of Great Wolf Lodge's overall identity. It has contributed greatly to the success of the Great Wolf Lodge brand since the first resort's opening in 1997.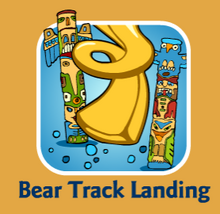 Description of Waterpark
[
]
What it offers
[
]
Great Wolf Lodge is perhaps best known for their indoor waterparks which are always 84 degrees Fahrenheit (28 degrees Celsius) year round. There are so many things to do in the waterpark. Most locations have a wave pool called Slap Tail Pond, a lazy river called Crooked Creek, interactive water play area called Fort Mackenzie and of course the Tipping Bucket. They also have an activity pool called Chinook Cove, a toddler pool called Cub Paw Pool and outdoor pool called Raccoon Lagoon as well as Big Foot Pass. There is also a family whirlpool called South Hot Springs, and sometimes there's an "adults-only" one called North Hot Springs. Most locations also have a surf simulator called Wolf Rider Wipeout.
Types of Slides
[
]
Each location has a variety of different water slides to choose from depending on the size of the indoor waterpark itself. Most locations have Whooping Hollow, Totem Towers, Alberta Falls, Coyote Cannon, and Mountain Edge Raceway. Some have their own unique slides including River Canyon Run, Howlin' Tornado, The Double Barrel Drop, The Triple Twist, Hydro Plunge, and Wolf Tail to name a few.
Dining & Shopping
[
]
Dining
[
]
Bear Track Landing Waterpark offers Buckets Incredible Craveables where you can get lunch, dinner, and dessert at. Some locations also offer a bar and lounge called Grizzly Rob's Bar.
Shopping
[
]
The waterpark has one place to shop at called Bear Essentials Swim Shop. Here, you can find swimwear and other related goods. It is usually located next to the entrance into the park but it also serves as the main entrance into the waterpark at many newer locations. It also may be called Paddle Bay Outfitters at newer locations as well.
Other Services
[
]
Bear Track Landing Waterpark has cabanas which can be rented out starting at around $249.99. The waterpark also offers towels and lifejackets for those to use.
Gallery
[
]